Workshops Offered by Optimal Health Chiropractic
Workshops Offered:
IF YOU OWN A COMPANY OR WOULD LIKE ME TO OFFER A FREE WORKSHOP AT YOUR EMPLOYER YOU CAN CALL ME OR FOR MORE INFORMATION GO TO WWW.CAMPBELLCONCIERGECHIROPRACTIC.COM
2-hour workshops, very customized to specific work duties performed (there is a cost).
Personal workstation evaluations with detailed report of pre/post changes (this may be covered by insurance).
45-minutes to 1 hour workshops on stress, lifting techniques and sit safe (FREE).
* For all workshops specific exercises are shown and performed by all employees with incredible buy-in. The employees will notice a significant difference in their stress levels by the end of the workshop.
Dr. Pedreiro is a certified injury prevention specialist for the Backsafe® and Sittingsafe® programs.
Backsafe® Workshop
Backsafe® is an injury prevention program that reduces worker compensation costs. It is designed to have long lasting effects on your employees to reduce costly injuries both on and off the job. Backsafe is presently being used by several organizations such as Boeing, Chrysler, UPS, Ryder Trucking, Schools, Governments, Hospitals and many other organizations of all descriptions.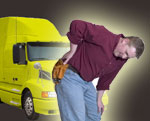 Benefits
We design job specific workshops that are aimed at training employees how to perform their jobs bio-mechanically correct. We customize programs for all job descriptions including material handling,construction, trucking, nursing, police, fire fighters, distribution etc. Our aim is to break workers' bad habits and replace them with healthier ones that they will apply on a daily basis.
We have developed our training techniques to ensure that the worker "learns" proper biomechanical techniques. By "learning," we mean that they acquire basic knowledge of the anatomy, biomechanics and stretching exercises, and are motivated to apply proper body mechanics to their jobs on a daily basis.
We will teach your employees how to do their jobs, in their work environment, biomechanically correct by having them perform their job tasks under the supervision of our facilitators who coach them on how to do these tasks safely.
Sittingsafe® Workshop
Sittingsafe® is a new generation of job-specific on-site training designed to reduce office-based injuries and illness experienced by many who work with computers or perform other job activities while in a seated position.
Benefits
Workshop gets the participants involved via the Sittingsafe® practical module that ensures the employee can adjust their own workstation ergonomically correct. This practical module is supported by our state of the art Sittingsafe® video and materials.
The Sittingsafe® Ergonomic Workshop also includes the Sittingsafe® 3 minute stretching routine aimed at reducing stress from repetitive activities. The goal of the program is to teach the employee how to control their environment using their existing furniture and equipment to prevent painful and costly injuries.
The key to preventing these costly injuries is to reduce the amount of stress incurred on a daily basis by properly adapting the environment to be more user friendly, correcting improper biomechanics, and, through a proper stretching routine, rid the body of accumulated stress.
For more on Backsafe® and Sittingsafe® visit http://www.backsafe.com/ or contact this office at info@drjames.net
Foundation For Wellness Professionals Speakers Bureau
We are members of the Foundation for Wellness Professionals, a not-for-profit organization that promotes wellness and disease prevention programs. The Foundation for Wellness Professional is an international organization, in which all of the doctors volunteer their time. There is no charge for this service. Take a look at the many available workshops below and refer to the site www.wellnessspeakers.org. This site is for The Foundation for Wellness Professionals.
---
Stay Fit While You Sit: Ergonomics for a Healthier You
Millions of Americans spend millions of hours each year sitting on the job. Managers, receptionists, computer operators, and many others may be surprised to find that their health issues can be improved through purely natural means.
This lecture will educate the audience on how they can prevent problems like neck and back pain and Carpal Tunnel Syndrome by sitting properly and setting up their work spaces properly. It will also give them exercises that they can do during their breaks that can increase performance and productivity.
---
How to Prevent Musculoskeletal Disorders in the Workplace
An Educational Approach to Injury Prevention and Safety. Reduce on-the-job injuries and Workman's Compensation claims by educating employees about what Musculoskeletal Disorders are and how to prevent them.
Our professional healthcare motivational and keynote speakers will educate your audience on the warning signs and symptoms of a musculoskeletal problem, what can cause them both at work and at home, what the risk factors are, and how to prevent them from occurring.
---
Natural Solutions to Headache Pain
Millions of Americans suffer from chronic headaches. This results in millions of doctors visits, millions of lost work days, and billions of dollars in medical bills.
This presentation was designed to educate the audience about the different types of headaches, what causes them, how to prevent them, and safe, natural and effective alternatives to treating them.
---
Carpal Tunnel Syndrome: A Multi-Faceted Approach for Repetitive Strain Injuries
In this presentation the audience will learn what Carpal Tunnel Syndrome and Repetitive Strain Injury are and how to prevent them. The audience will also learn how these conditions can be effectively treated without drugs or surgery.
---
Health and Stress Workshop
Stress is the underlying cause of most illnesses. This lecture will educate the audience on the symptoms of stress, how stress affects the body's overall health, and what a person can do to relieve stress both at work and at home, so that they can feel better and enjoy life more.
---
Natural Approaches to the Prevention and Treatment of Low Back Pain
Millions of Americans will suffer from low back pain at least once in their life, and many will turn to medications or surgery to alleviate the pain.
This presentation will give your audience a thorough understanding of the types and causes of low back pain and offer them safe, natural and effective approaches to preventing, treating, or recovering from low back pain.
---
Trigger Point Therapy: A Home Stress Reduction System
This presentation will show the audience an effective method for reducing physical stress by educating them about what Trigger Points are, how to locate them on a person, and how to relieve them easily and quickly. The audience will learn the relationship between stress, trigger points and their effects on health.
---
Arthritis: Alternative Approaches to Preventing & Relieving Joint Disease
Over 50 million Americans suffer with joint disease. This presentation educates the audience about what arthritis is, who is susceptible to arthritis, what causes it, how to relieve it, and steps to help prevent joint disease.
---
Five Secrets to Looking and Feeling Younger/Permanent Weight Loss/Diabetes
These presentations cover three of the most serious concerns for the American public: Looking and feeling better and younger, losing weight, and helping diabetic symptoms.
This presentation will educate the audience about how the body and metabolism works, why most diets don't work, the true value of being healthy and fit, how food, water, and medication play a roll in their health and how pain limits a person from achieving their full health potential !
---
Balancing Hormones Naturally
A Holistic Approach to Women's Hormone-Related Health Concerns. Over 80 million women in the U.S. currently suffer with PMS and symptoms of menopause. Many of these women are confused as to what health options are available or even right for them. This lecture will educate the audience about natural alternatives to address problems related to hormone imbalances and menopause.
---
ADD, ADHD, and Other Learning and Behavioral Disorders
This presentation is a must for anyone who has or knows somebody with these disorders which also includes dyslexia, OCD, Aspergers, and Autism to name only a few. We have an epidemic on our hands but we have answers. New neuroscience breakthroughs have paved the way for a better understanding of these disorders and new treatments that really work! Schedule this one for any group ranging from parents to a professional/doctoral group.
---
Understanding Fibromyalgia: A Holistic Approach to Chronic Pain and Fatigue
People who are suffering with fibromyalgia are desperate for relief from the constant nagging symptoms, pain and fatigue. The health care motivational and keynote speaker will educate the audience about safe, effective and natural alternative methods for addressing Fibromyalgia and chronic pain symptoms.
---
Natural Solutions to Digestive Problems
Acid Reflux, Hiatal Hernias, Ulcers, Irritable Bowel Syndrome, Colitis, and Crohn's Disease are just a few of the digestive disorders that affect more than 61 million Americans each year. This presentation will teach the audience about natural means of improving or even correcting these problems.
---
Natural Solutions to Breathing Problems
Breathing problems affect millions of people in the United States and around the world, problems ranging from the mild irritation of hay fever to life-threatening cases of asthma. Until recently, treatment for such conditions was limited to over-the-counter and prescription drugs, some of which have been found to have serious side effects.
Now, with this lecture you can educate your audience about how stress affects the respiratory system, the revolutionary Buteyko Breathing Method to relieve and prevent asthma attacks, common triggers that can cause respiratory problems, natural solutions for treatment and maintenance steps to prevent breathing problems.
---
Children & Chiropractic Neurology: A Natural Solution to Common Childhood Health Problems
A child's early years are often filled with bumps and bruises from falls and the typical mishaps of childhood. What is not realized is that during these formative years, it is important to take steps to protect the body's structure as it grows. This presentation educates parents about the physical impact that common childhood activities can have on a child's long-term health. The presentation explains the many benefits offered to growing children by natural healthcare methods.
---
Enhancing Athletic Performance with Chiropractic Neurologist
More than ever, people are aware that fitness and health go hand-in-hand and so choose to lead more active lifestyles. Chiropractic Neurology can help both the fitness-conscious individual and the athlete to reduce their risk of injury and increase their performance. The professional health care keynote and motivational speaker will explain the various types of athletic injuries, how they occur, how they can be prevented, and how they can be recovered from more quickly.
---
Vertigo (Professional Lecture)
This presentation is built for any healthcare profession interested in learning more about central or brain based vertigo versus peripheral or inner ear based vertigo. New neuroscience research is presented with tactics to help differentially diagnose, treat, or refer as necessary. Dr. Ryan has given this talk at hospitals, and Doctoral rounds with great reviews.
---
Fall Prevention
The Falls Prevention Seminar is a one hour program designed to inform the public on how to prevent falls and maintain their independence. Audience will be given practical information and the tools to help prevent falls and the serious injuries they can cause. The seminar will also look at health issues that put seniors at risk of falling in their home and community.
---
New Theories for the Causes and New Treatments That Work!
New theories in chiropractic neurology describe a pattern of muscle imbalance called pyramidal non-spastic paresis, sounds like a lot of big words but is really a simple concept. This muscle imbalance is due to spinal reflexes that govern our normal postural muscle tones. This is how it works, a spinal reflex is defined as a loop of circuitry between sensory nerve endings sending information to the spinal cord and the information being processed in the cord and quickly causing a muscular response. This type of loop usually does not interact with the brain. The knee jerk is the simplest reflex.
---
Auto Accidents: The Hidden Injuries
Hidden injuries are sneaky, potentially debilitating, and will strike millions of Americans this year…and due to ignorance and/or inappropriate care, many car accident victims will suffer for the rest of their lives from osteoarthritis, damaged muscles or ligaments, or other accident injuries! There is help available to you.
Dr. Pedreiro has literally trained thousands of employees over the years on how to prevent injury. If you have specific questions about our injury prevention programs do not hesitate to email or call Dr. Pedreiro.
---
Workshops Offered Willow Glen and Campbell, CA
(408) 371-6003