Dr. James Pedreiro, Willow Glen Chiropractor
Chiropractic Education
Dr. Pedreiro began his pre-chiropractic education in the Turlock/Merced area where he studied the basic sciences such as inorganic chemistry, organic chemistry, biology, along with basic physiology and anatomy courses. After completing his study there, he was accepted at Life Chiropractic College West in Hayward, Ca. During his four years at Life West, courses included biochemistry, a major emphasis on anatomy and human physiology, X-ray, diagnosis, chiropractic adjusting techniques and patient care in the Life West Public Clinic.
After graduating in 1997 Dr. Pedreiro returned to the Modesto/Stockton area to work as an associate and eventually moved to San Jose in 2001 where he establish his practice.
Qualified Medical Evaluator and a Certified Injury Prevention Specialist
Dr. Pedreiro is a state appointed Qualified Medical Evaluator and a Certified Injury Prevention Specialist.
He teaches and has taught injury prevention classes to many companies such as United Airlines, Hayward University, Merced University, Kaiser Hospital(Vallejo), San Jose Mercury News, Kendall Jackson, Beringer, Cardinal, La Crema, Cambria and many other smaller Wineries, Santa Clara Valley Water District, Wells Fargo Banks, Most of the Whole Foods stores in Silicon Valley, Union Sanitary District, Virage Logic, Mosys, SonicWall, Shell Refinery, City of Watsonville (firefighters, police and Garbage) and many others.
Diplomate, American Chiropractic Rehabilitation Board (ACRB.org)
Dr. Pedreiro is one of only a few Doctors in the Chiropractic field who has attained the Diplomate status. It takes many years and hundreds of hours to complete this program. He recieved his Diplomate status in 2016. This status allows him to offer his patients the latest treatments and evidence-based rehabilitation techniques. Helping patients attain their best level of health and mobility is our constant goal, and we do that with the specialized training and certifications offered through the ACRB®, with the highest level of certification being a Diplomate of the American Chiropractic Rehabilitation Board (DACRB). Combining the science of Chiropractic with Rehabilitation has been proven to help patients feel better and live more active lives!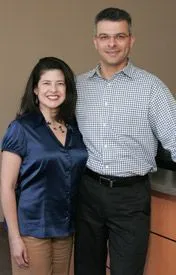 Dr. James Pedreiro, Willow Glen Chiropractor and wife Sally

Helping Clients Achieve Real Results:
"Early in my career I realized that there is far more I could do for my patients than simply adjust them. Chiropractic adjustments are crucial in restoring spinal mobility, but the vast majority of peoples issues are derived from muscular imbalances. If these are not addressed we cannot hope for true resolution of symptoms.
By researching and following the brightest minds in chiropractic and rehabilitation I have been able to develop specific protocols which my patients can use to achieve optimal health. Thereby allowing them to live the life they want to whether it be: playing with their kids, running a marathon, golf on the weekends, or simply enjoying life without the worry of pain.
Dr. Pedreiro strives to provide the community with exceptional chiropractic care to enhance health relieve pain and improve quality of life.


Living the Chiropractic Lifestyle
Dr. Pedreiro has been married since 2000 and they have a wonderful daughter. When not in the office they like to take time with family and friends. Dr. Pedreiro practices what he preaches. He has made time from his busy schedule to work out at the gym 4-5 times a week and eating a well balanced diet which includes his multivitamins/shakes.
Thanks for visiting our site. I look forward to meeting you in person and learning how we may be of service to you. Give our Willow Glen chiropractic office a call, or email me using the link below and let's arrange a time to explore your options.